Product is never more offered.
Contact product manager please:
Milan Záhorský
ASUS EeePC 7" 512MB 4GB WHITE wifi webcam CZ verze, XP Home (bílý)
ASUS EeePC 7" 512MB 4GB WHITE wifi webcam CZ verze, XP Home (bílý)

CZ lokalizace!
bílá barva

- ultramobilní počítač do školy, práce nebo na dovolenou

- snadná obsluha: Easy to learn, easy to work, easy to play (snadné studium, práce i zábava)
- krátký startovací čas
- uživatelsky přátelské intuitivní grafické rozhraní
- 7" kompaktní přenosný počítač vážící méně než 1 kg
- odolný proti nárazům
- široké možnosti připojení
- ukládání dat na supermoderní SSD disk
- přes 40 aplikací pro učení, práci a hry

displej: 7" WVGA (800 X 480)
chipset: Intel
prosesor: Intel® Celeron M ULV 353
operační systém: Microsoft® Windows® XP Home, Windows Live Suite, MS Works
komunikace: 10/100 Mbps Ethernet
WLAN: WiFi 802.11b/g
paměť: 512MB, DDR2
Storage-Flash: 4GB
web kamra: 0.3 Mega Pixel Video kamera
Audio: Hi-Definition audio CODEC, vestavěné reproduktory, mikrofon
výdrž na baterie: 2.5 hod (4- článková baterie)
rozhraní: 3x USB 2.0 1x VGA 1x SD/MMC card reader(SDHC) (až 16GB), 1x Audio in 1x Audio out
napájení: výstup: 9.5V, 22W; vstup 100-240V AC, 50/60Hz
rozměry:: 22.5 x 16.4 x 2.15~3.5 cm,
hnotmost: <1 kg
váha včetně balení: 2.04Kg
příslušenství: pouzdro

Product manager:
Milan Záhorský,  233 320 590,  602 215 334,  zahorsky@nc.cz
Producer's websites:
Find better price on net?
Send info about this product to friend
| | |
| --- | --- |
| Accessory | brašna (pouzdro) |
| battery time | až 3 hodiny |
| Bluetooth | není |
| Card reader | SD/MMC |
| Dimension of display | 7" |
| Expansion card | není |
| External Graphics Card | sdílená |
| Fingerprints reader | není |
| Firewire ( IEE1394 ) | není |
| Graphics card | Intel 900 |
| Hard disk | 4GB (SSD) |
| Infra port | není |
| LAN card | 10/100 |
| Memory | 512MB |
| Modem | ano (56kb) |
| Number of USBs | 3x USB 2.0 |
| Operating system | Windows XP Home |
| Optical | není |
| Paralel port | není |
| Processor | Intel Celeron M |
| Resolution of display | 800x480 (WVGA) |
| Serial port | není |
| TV Tuner | není |
| Type of display | Matný |
| Type of memory | DDR2 |
| VGA out | VGA |
| WebCam | Ano (0,3 MegaPixel) |
| Weight | 0.92 Kg |
| WLAN card | 802.11 b/g |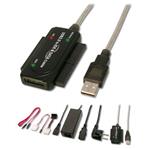 Připojí do USB: SATA i IDE 2,5" a 3,5" HDD; SATA i IDE 5,25" mechaniky